Posts for: December, 2014
By Ronald Dixon, DMD
December 16, 2014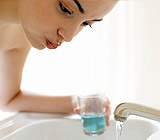 There are dozens of brands of mouthwashes and rinses on drugstore shelves that American consumers buy each year for clean breath and oral health. But the question is do they really work?
To properly answer that, you should first know that mouth rinses fall into two general categories: cosmetic and therapeutic. A cosmetic rinse can give you a temporary "clean" feeling in the mouth (usually masking bad breath with a more pleasant smell) but in the long run doesn't contribute to better oral health. On the other hand, therapeutic rinses do enhance oral health; they contain one or more ingredients that can help prevent the development of tooth decay and/or inhibit bacterial growth.
Although some therapeutic rinses are prescribed by dentists, many are available over-the-counter (OTC). Decay-fighting rinses usually contain sodium fluoride, which has been amply demonstrated to strengthen the surface of teeth and thus inhibit tooth decay and the likelihood of new cavity development — but only when used in combination with good hygiene practices. Anti-bacterial rinses contain ingredients such as triclosan, zinc or essential oils like menthol that reduce the level of bacteria in plaque (when also coupled with good oral hygiene). This also helps reduce the growth of decay.
For some patients a prescription rinse may be in order, especially during recuperation from oral surgery or where normal plaque control is difficult. The most common rinse contains chlorhexidine, a chemical that prevents bacteria from sticking to the teeth. The effectiveness of chlorhexidine, especially in helping to control gingivitis (inflammation of the gums) and preventing tooth decay, is well-documented after many years of research and use. While it may cause teeth staining in some patients, the staining can be alleviated by ultrasonic scaling or polishing.
So then, should you incorporate a mouth rinse into your daily hygiene regimen, and if so, what kind? That will depend on your own individual oral health needs, which we can advise you on. Knowing what your own needs are and the different kinds of mouth rinses and what they are designed to do, you can make an informed choice.
If you would like more information on the use of mouthwashes or rinses, please contact us or schedule an appointment for a consultation. You can also learn more about this topic by reading the Dear Doctor magazine article "Mouthrinses."
By Ronald Dixon, DMD
December 01, 2014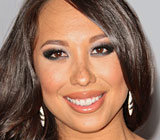 If you've ever watched Dancing with the Stars on television, you've no doubt noticed the vivacious and talented Cheryl Burke, whose ballroom dance moves are as captivating as her bright smile. In fact, Cheryl considers her smile to be one of her most important assets as a professional dancer.
"As a performer, you're basically smiling the whole time," Cheryl told Dear Doctor magazine recently in an exclusive interview. "It's just really important to take care of your teeth and have a great smile."
Cheryl is very conscientious about caring for her smile, but that wasn't always the case. In the Dear Doctor interview, Cheryl revealed that her teeth suffered from ineffective oral hygiene when she was younger. "I definitely had my share of cavities," Cheryl recalled, adding that she believed this was her own fault. "I didn't use floss," She explained. "I think when you do floss frequently, it helps to reduce the chances of getting cavities. It took me a while to figure it out."
Once Cheryl did figure it out, she was able to make cavities a thing of the past. But in order to make sure the effects of her prior tooth decay did not mar her lovely smile, she made sure her dentist — who is also her stepdad! — gave her tooth-colored fillings that could not be distinguished from the surface of a natural tooth. "It's important for me," Cheryl said.
Lots of dental patients feel the same way, even if they don't spend time in front of television cameras. That's why the dental profession has developed tooth-like materials such as composite resins and porcelains that mimic natural tooth material exactly. These materials are also suitable for children's teeth and can incorporate fluoride to reduce tooth decay. It's even possible to replace old silver-colored fillings with these newer dental materials.
If you would like to learn more about tooth-colored fillings, please contact us to schedule an appointment for a consultation. To read Dear Doctor's entire interview with Cheryl Burke, please see "Cheryl Burke." Dear Doctor also has more on "The Natural Beauty of Tooth-Colored Fillings."