Posts for: June, 2015
By Ronald Dixon, DMD
June 17, 2015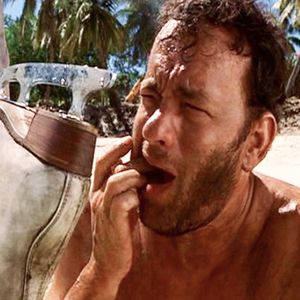 Did you see the move Cast Away starring Tom Hanks? If so, you probably remember the scene where Hanks, stranded on a remote island, knocks out his own abscessed tooth — with an ice skate, no less — to stop the pain. Recently, Dear Doctor TV interviewed Gary Archer, the dental technician who created that special effect and many others.
"They wanted to have an abscess above the tooth with all sorts of gunk and pus and stuff coming out of it," Archer explained. "I met with Tom and I took impressions [of his mouth] and we came up with this wonderful little piece. It just slipped over his own natural teeth." The actor could flick it out with his lower tooth when the time was right during the scene. It ended up looking so real that, as Archer said, "it was not for the easily squeamish!"
That's for sure. But neither is a real abscess, which is an infection that becomes sealed off beneath the gum line. An abscess may result from a trapped piece of food, uncontrolled periodontal (gum) disease, or even an infection deep inside a tooth that has spread to adjacent periodontal tissues. In any case, the condition can cause intense pain due to the pressure that builds up in the pus-filled sac. Prompt treatment is required to relieve the pain, keep the infection from spreading to other areas of the face (or even elsewhere in the body), and prevent tooth loss.
Treatment involves draining the abscess, which usually stops the pain immediately, and then controlling the infection and removing its cause. This may require antibiotics and any of several in-office dental procedures, including gum surgery, a root canal, or a tooth extraction. But if you do have a tooth that can't be saved, we promise we won't remove it with an ice skate!
The best way to prevent an abscess from forming in the first place is to practice conscientious oral hygiene. By brushing your teeth twice each day for two minutes, and flossing at least once a day, you will go a long way towards keeping harmful oral bacteria from thriving in your mouth.
If you have any questions about gum disease or abscesses, please contact us or schedule an appointment for a consultation. You can learn more by reading the Dear Doctor magazine articles "Periodontal (Gum) Abscesses" and "Confusing Tooth Pain."
By Ronald Dixon, DMD
June 02, 2015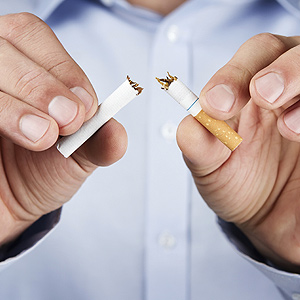 It's been widely established for decades that cigarette smoking contributes to cancer and heart disease. But did you know smoking will also increase your risk of tooth decay and periodontal (gum) disease, as well as nuisance problems like tooth staining, bad breath and diminished taste perception?
Its effects on your teeth and mouth are all the more reason to quit smoking. But deciding and following through are two different things: many smokers find it painfully difficult to quit due to their addiction to nicotine, tobacco's active ingredient.
But while difficult, it can be done. Here are 4 tips to help you follow through on your decision to quit smoking.
Change Your Response to Stress. Cigarette smoking is closely tied to the pleasure and reward areas of your brain. With its "hit" of nicotine, you sub-consciously identify smoking as a way to relieve the unpleasant feelings of stress. Instead, substitute other stress relievers when it occurs: going for a walk, talking to a friend or taking a few deep breaths. In time, this substitution will wear down the trigger response to stress you've developed with smoking.
Gradually Reduce Nicotine. You don't have to quit abruptly or "cold turkey": over the course of a few weeks, try switching to brands with decreasing levels of nicotine. Each week change to a brand with 0.2-0.4 milligrams less nicotine yield than the brand you were smoking the previous week. When you reach the lowest nicotine yield you can find, begin reducing the number of cigarettes you smoke each day. You can find a list of nicotine yields by brand at www.erowid.org/plants/tobacco/tobacco_nic.shtml.
Quitting Loves Company. While you're responsible for quitting, you may also benefit from the support of others. Usually eight to ten weeks of peer group sessions, a cessation support group provides instruction and ample structure with others engaged in the same struggle. You can usually locate one of these support groups by asking your healthcare provider.
Talk to Your Doctor or Dentist. Next to you or your family, no one wants you to quit more than we do! We can provide you information, treatment and encouragement as you take this big step toward improving your life and health.
If you would like more information on how to quit smoking, please contact us or schedule an appointment for a consultation. You can also learn more about this topic and more tips for quitting by reading the Dear Doctor magazine article "10 Tips to Help You Stop Smoking."